8 December 2020, jeffocal @ 6:46 am
Please follow and like us:
To explain the physicality of the wave function one must  connect its wave particle definition of existence along with its  probabilistic interpretation to the physicality of our  observable universe.
For example,  the probability of getting a six  on a roll of the dice is related to the physical interaction of the dice with  the table where it is rolled. In plain English, the probabilities associated with a roll of dice does not  define why a six was rolled the physical properties of table does.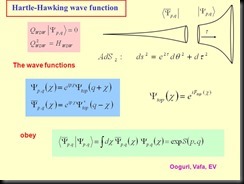 Therefore, to connect the wave particle  definition of existence and probabilistic interoperation  of the wave function to the physicality of our observable universe one must show  how it is responsible for them.

One can accomplish this by using the science of wave  mechanics along with the fact Relatively tells us wave energy moves continuously  through space-time unless it is prevented from doing so by someone observing or  something interacting with it. This would result in its energy being confined to  three-dimensional space. The science of wave mechanics also tells us the  three-dimensional "walls" of this confinement will result in its energy being  reflected back on itself thereby creating a resonant or standing wave in  three-dimensional space. This would cause its wave energy to be concentrated at  the point in space were a particle would be found. Additionally, wave mechanics  also tells us the energy of a resonant system, such as a standing wave can only  take on the discrete or quantized values associated with its fundamental or a  harmonic of its fundamental frequency. This means one would define the position  of a particle in four-dimensional space-time in terms of where this standing  wave was located.

This defines the wave particle-duality of  existence as define by quantum mechanics in terms of the physical properties of  space-time and why a particle becomes reality only when it is prevented from  moving through time by and observation.

Additional is also allows us to connect its probabilistic  interoperation to the physicality of our observable universe.

This is because is it allows one to understand why the probabilities associated with the  wave function does not define the position of a particle, the properties of  space-time does.  But to do so one would have to show similar to the dice, mentioned earlier why the probabilities associated with wave function does NOT  define reason why it will be found in a specific place at a specific time, the universe does.

The physics of wave mechanics and Einstein theories tell  us wave energy moves continuously through space-time unless it is prevented from  doing so by someone or something interacting. This means (if allowed to move  freely it) it would be distributed throughout "surface" a  three-dimensional space manifold with respect to time.

For example, the energy of a vibrating or oscillating ball  on a rubber diaphragm would be disturbed over its surface while the magnitude of  those vibrations would decrease as one move away from the focal point of the  oscillations.

Similarly, if the assumption the wave properties of the  wave function represent a wave moving through space-time is correct, the  oscillations it causes in a "surface" of three-dimensional space, would be  distributed over its "surface" while their magnitude would be greatest at their  focal point and decrease as one moves away from it.

Earlier, it was shown why one can derive the properties of  the wave function in terms of a wave moving through space-time. Additionally, it  was shown that a particles position could be derived in terms of where the  standing wave created when it was prevented from moving through time was  located.

Therefore, as was mentioned earlier to define the  physicality of the wave function in terms of space-time one must show how the  probabilities it associates with position are caused by it.

This can be accomplished because quantum mechanics defines a particle's position in terms of a one-dimensional point which could be found anywhere within the volume occupied by that standing wave. Therefore, there is probability it could be found anywhere in that volume before  it is observed.

Yet the science of wave mechanics tells us the  one-dimensional point that defines a particle position in quantum mechanics would most PROBABLY be found at the focal point were the magnitude of the oscillations was greatest and would diminish as one move  away from that point.

In other words, this shows how one can derive the  probabilistic interpretation of the wave function in terms of the physical properties of space-time as defined by Einstein.

Copyright Jeffrey O'Callaghan Dec 2020

Please visit our Facebook group The Road to unification of Quantum and Relativistic theories if you would like to comment or contribute to our project
The Road to Unifying
QM with Relativity
part 1
2007 thru
2010

Ebook
$8.00

The Road to Unifying
QM with Relativity
part 2
2011 thru
2014

Ebook
$8.00

The Road to Unifying
QM with Relativity
part 3
2015 thru
2020

Ebook
$8.00
Please follow and like us: