15 January 2021, jeffocal @ 11:37 am
Please follow and like us:
Cosmologists have not yet been able to determine if the universe will keep on expanding or enter a contraction phase but if it does it will generate a lot of heat. I wonder what effect that heat would have on a black hole. My intuition is that the smaller ones may just dissolve or return the ions they are made up of back to space but the larger ones MAY I repeat MAY exploded like a kernel of popcorn. The heat created by this expulsion would cascade to other black holes causing them to explode in rapid succession. The energy released by a single one would only result in a small increase in the rate of the universe expansion. However, the explosions of large numbers over a short period of time COULD result in a very rapid expansion that might approach that of the inflationary model based on the expansion of a singularity.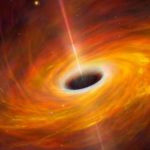 Some will probably say that is it crazy to assume that a black hole can explode however I think it is crazier to assume that the explosion of a single one-dimensional point called a singularity can result in the observables properties of our universe.
One advantage to basing an inflationary model on the explosions of black holes is that it defines a mechanism for the start of the inflationary period in terms of an observable properties of our universe. Additionally, one can, through observations estimate the total energy content of all of the black holes in universe AT THE TIME OF ITS COLLAPSE based on how many presently exist. This would allow one to estimate the rate of the universe's inflationary expansion caused by a rapid release of their energy.
To determine if this IDEA is viable solution one would have to first determine if heat can cause a black hole to explode. If it can one could use their observable properties to mathematically quantify the temperature required for that to occur. We can also estimate the maximum temperature the complete collapse of the universe would attain. If that value is greater than the temperature required to cause a black hole to explode it would add creditability to the above IDEA. After that it should be possible to determine rate at which the energy of the explosion of a single black hole will ripple through rest and cause them to explode. Since, as was mentioned earlier because we can estimate, based on observations the total energy of all of the black holes in our observable universe AT THE TIME OF ITS COLLAPSE we mathematically determine rate at which energy is released and therefore the rate of the universe's expansion at each point in its evolution.
In other words, it allows us to define an inflationary period in our universe's evolution based on the mathematical analysis of the observable properties of our environment instead of the unobservable properties of a quantum singularity.
Copyright Jeffrey O'Callaghan Jan. 2021
The Road to Unifying
QM with Relativity
part 1
2007 thru
2010

Ebook
$8.00

The Road to Unifying
QM with Relativity
part 2
2011 thru
2014

Ebook
$8.00

The Road to Unifying
QM with Relativity
part 3
2015 thru
2020

Ebook
$8.00
Please follow and like us: